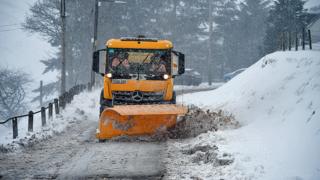 Travel disruption is expected to continue with more snow and ice forecast across Scotland.
The Met Office has issued a yellow weather warning which runs from midnight until 12:00 on Wednesday across most council areas.
Snow is expected to lie in regions above 100m (328ft) with up to 10cm (4in) forecast above 250m (820ft).
Drivers have been warned to be aware of icy surfaces and strong winds which may lead to "blizzard conditions".
It comes after an amber alert was issued on Tuesday over much of Dumfries and Galloway, the Borders and into South Lanarkshire and East Ayrshire.
Some drivers were stranded on the the A702 on Tuesday night after the Dalveen Pass became blocked, just north of Durisdeer village, Dumfries and Galloway.
Gritters were sent to the scene, along with police and a mountain rescue team.
The Dumfries and Galloway Virtual Operations Support team – which was put in place by the police and Dumfries and Galloway Council – said drivers were advised to avoid the route.
The Met Office said that with the new yellow warning there was a "small chance" of travel delays on roads with some stranded vehicles and passengers.
It also warned of potential rail and flight cancellations and said there was a "slight chance" some rural communities could become cut off.
Forecasters said there was a small chance of power cuts and mobile phone coverage could be affected.
Police have urged commuters to plan their journeys, particularly at rush hour.
Both the M74 motorway and the West Coast mainline run through the area covered by Tuesday's amber warning.
Scotland Transerv later said they had 32 gritters operating on trunk roads in the south west.
One car skidded on ice and crashed on the A74(M) near Johnstonebridge at about 16:00 on Tuesday but police said it appeared no-one had been hurt.
Dumfries and Galloway Council activated its virtual operations support team (DGVost) to give updates on the situation.
In the Scottish Borders, the local authority allowed school transport to leave early in the areas affected and urged residents to take "extreme care" when out and about.
The wintry conditions had already caused a range of other problems across the country ahead of the amber warning.
Rail passengers in the south of the country were facing disruption after a landslip closed the line between Kilmarnock and Dumfries.
On the roads, there were reports of blizzards on some routes, and the M74 was closed southbound for a time between junction 12 and 13 at Abington due to a road accident.
Images posted on Facebook by police showed that a lorry had shed its load, blocking all three lanes of the motorway which reopened at about 12:15.
The winter weather also forced the cancellation of a number of west coast ferry services.
In the Highland Council area, Kingussie High School, nine primary schools and six nurseries were closed, affecting more than 1,000 children.
It follows several days of disruption caused by the weather which began with Storm Ciara at the weekend.
A number of further weather warnings are in place in the days to come.
Severe weather
Preparing for severe weather: